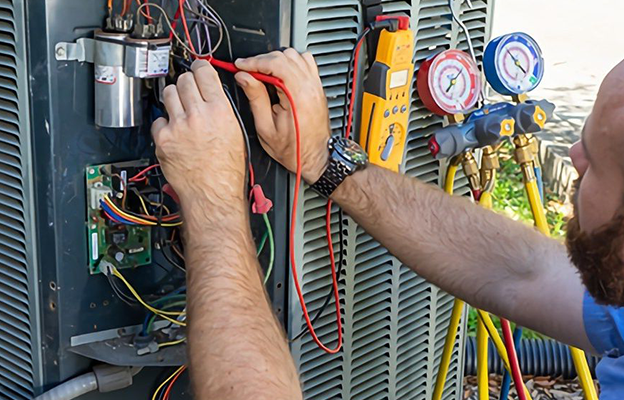 Look no further than Tanous Heating and Cooling for prompt, cost-effective air conditioner repair services in Hoboken, NJ. We know how uncomfortable a malfunctioning air conditioner can be, particularly when it is hot and humid in the summertime. Because of this, we provide skilled, factory-trained, NATE-Certified technicians with 24-hour service and same-day repairs.
Our priority is to provide AC repair services that are timely, competent, and accurate. We are proud to offer a satisfaction guarantee of 100 percent on all of our air conditioning services. We also advise performing preventive maintenance on your air conditioner every season to avoid unforeseen repairs during a heat wave.
We recommend being prepared with answers to a few questions, such as the present condition of your air conditioner, how long you've been experiencing the issue when your AC was last serviced, and its repair history, to help speed up the repair process.
A damaged air conditioner shouldn't ruin your comfort at home. For professional AC repair services in Hoboken, NJ, depend on Tanous Heating and Cooling specialists.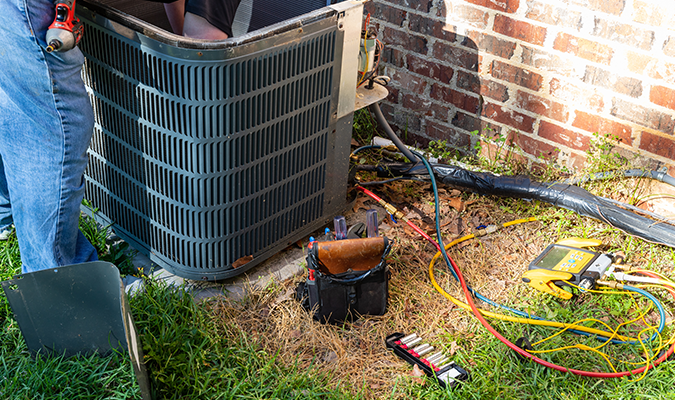 Regarding air conditioning problems, the most common causes are usually maintenance-related issues such as clogged air filters, low refrigerant levels, and dirty coils.
Other issues may include faulty thermostats, electrical issues, and worn-out components. To prevent these from occurring, it's essential to have your air conditioner serviced regularly and check the air filter and fan belts regularly.
Poor airflow or lack of cool air coming from the unit.

Strange noises or smells are coming from the unit.

Water leakage or moisture buildup around the unit.

Frequent cycling on and off or failure to turn on at all.

Higher energy bills than usual without any changes in usage patterns.

Ice buildup on the coils or other parts of the unit.

Inconsistent or uneven cooling throughout your home or building.

Faulty thermostat or other electrical issues.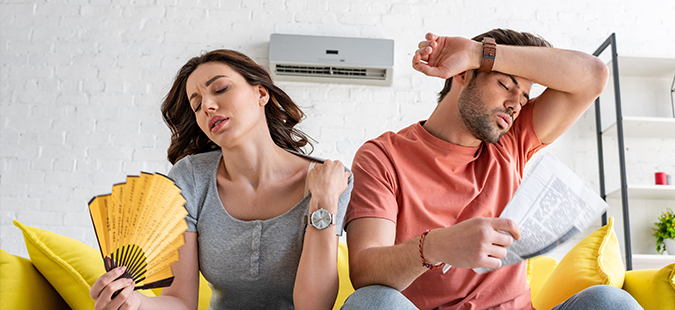 There might be a solution. Start checking your air filter for clogs or dirt, and replace it if necessary. Look at the condenser unit outside to ensure it's not blocked by debris.
If these steps don't resolve the issue, contact us, and we'll be happy to assist you in finding the solution.
We offer a full range of a/c repair services for all residential HVAC systems. Our experienced technicians can diagnose and repair any issue you may be having, from a simple refrigerant recharge to complex component replacements.
We also offer preventive maintenance services to ensure your system runs efficiently and reliably. Our repair services include but are not limited to the following:
Refrigerant leak detection and recharge.

Compressor replacement or repair.

Evaporator coil cleaning or replacement.

Condenser coil cleaning or replacement.

Fan motor replacement or repair.

Thermostat replacement or calibration.

Capacitor replacement.

Electrical wiring repair or replacement.

Drain line cleaning or repair.

Air filter replacement.

Ductwork repair or replacement.

Blower motor replacement or repair.

Condensate pump replacement or repair.

Expansion valve replacement or repair.

Circuit board replacement or repair.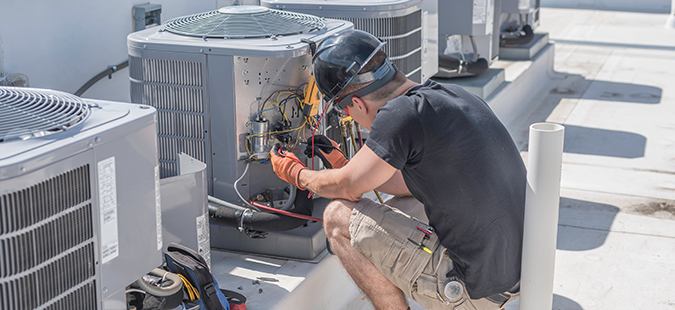 The amount of time it takes to repair an air conditioning unit depends on the type of problem and how complicated the repair is. Generally speaking, a primary repair job can take a few hours to a full day, while more complex repairs, such as replacing an entire unit, may take several days.
For a more accurate estimate, it's best to call us to assess your unit better and provide a timeline for repairs.
Yes, we do offer emergency a/c repair services. Our experienced technicians are available 24/7 to respond to any emergency repair needs.
We understand how vital a functioning cooling system is for your safety and comfort, so we strive to provide fast, reliable service.
Contact us immediately if you are experiencing any issues with your air conditioning system.
Yes, all of our air conditioning repair services are fully guaranteed. We stand by the quality of our work, and all repairs come with a 30-day warranty. If you're not completely satisfied with our services, we'll make it right or refund your money.
If your air conditioning unit is not working correctly or is more than 10 years old, consider replacing it. The age and functionality of your unit can affect its performance and efficiency, so it's essential to have an HVAC technician assess the condition of your unit. If the technician finds that your unit needs to be replaced, they can advise on the best replacement model for your needs and budget.

Selecting the proper heating and air conditioning repair company is crucial for ensuring your system is fixed correctly. With numerous options available in New Jersey, it can take time to decide who to trust.
At Tanous Heating and Cooling, we provide distinct advantages that set us apart from the competition:
Honesty:

Our commitment to fair assessments and competitive quotes ensures you won't be overcharged. We value our reputation and prioritize transparency.

Experience:

With over 25 years of experience in the HVAC industry, our family-owned company has the expertise to diagnose and fix complex issues. Our problem-solving skills allow us to excel in the competitive New Jersey market.

Speed:

If your HVAC system is not heating or cooling your property, we know that time is of the essence. We make it a priority to promptly solve your problem and make you our #1 focus.

Versatility: At Tanous Heating and Cooling, our experts can repair any make, model, or brand of heating and air conditioning systems. You can rely on us to finish the job right the first time.